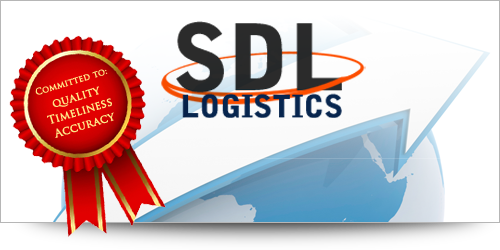 TRUST SDL LOGISTICS TO MANAGE YOUR NEEDS. WE ARE COMMITTED TO QUALITY, TIMELINESS AND ACCURACY
SDL Logistics is a Singapore based, one-stop full service third party logistics provider. With an experienced team of more than 25 years, SDL Logistics aims to meet ongoing demands and involves actively in warehousing and freight management. We provide the right mix of the key components of reliability, price and quality to our customers. We adopt good relationships, coordination and collaboration with channel partners.

SDL Logistics is flexible in meeting the demands of the customers and provides customized logistics solution. We will continue to strive to harness the growing opportunities in the logistics industry. We want to be the preferred choice in providing logistics solutions to the many growing companies in Singapore and overseas.
Airfreight

Seafreight

Warehousing and Distribution

Transportation

Order Processing

Kitting/Assembly

Pick & Pack

Labeling/Tagging/Barcoding/Seal

Inventory Control

Through the following core values, we want to grow our business with you:

Integrity

Being ethical, honest and inspiring trust by saying what we mean and being congruent with our words, actions and behaviour.

Win-Win

Emphasizing the importance of trust, communication, collaboration, mutual respect, and overall Vendor-Client success.

Responsibility
Being responsible and accountable for all our actions without laying blame on others and taking actions to resolve conflicts and issues between Clients and Business Partners.
We customise logistics solutions!