There is a simple rule for successful trading: "Buy low, sell high". The biggest challenge is to find when price is low enough to buy. Using the downtrend exhausting alerts is a simple way to find the "buy low" entry points. It does not require a rocket sciences and anybody can use it.
Downtrend exhaustion alert is a warning signal that occurs when a downtrend is near the end and the probability of the trend's reversal is high. Usually this signal coincides with bad news and a company's gloomy outlook. This is often the time when most people sell the stock at the bottom. The downtrend exhaustion alert presents a good buying opportunity.
The Interpublic Group (NYSE: IPG) chart below shows the downtrend exhaustion alerts issued by thegreedytrader.com between June 2006 and May 2008. Five downtrend exhaustion alerts were issued between June 17 and July 14, 2006 within price range 8.57 - 7.86. The price hit the major bottom on July 17 at 7.4. Six month later IPG was trading more then 80% higher.
The next downtrend exhaustion alert for IPG was published on January 11, 2008 at 7.4. By May 15 stock is trading up to 10.47 making more then 40% gain.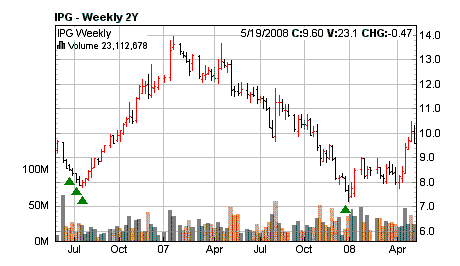 The next example below shows the downtrend exhaustion alerts for the Hasbro Inc (NYSE: HAS). Four downtrend exhaustion alerts were published between May 26 and June 23, 2006 within price range 18.78 - 18.01. HAS hit three-year low on July 24 at 17.0. During the next twelve month the price had risen almost 86% reaching 33.49 by July 23, 2007.
The next downtrend exhaustion alert for HAS was issued on January 11, 2008 at 22.34. The downtrend made major low on January 22 at 21.57. By May 14 HAS gained almost 68% trading at 37.35.
?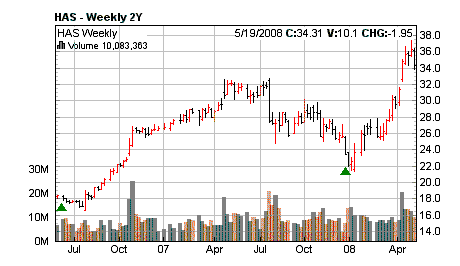 Using the downtrend exhaustion alert is not always that clear. As any trading technique it involves risk, but this simple approach would warn investors that the bottom might be near, and help prepare for changes in trend direction.
You can find the list of the latest downtrend exhaustion alerts at Downtrend Exhaustion Alerts page
Downtrend exhaustion strategy is more rewarding for the long-term positions.? The stock alerts are ranked using 1-5 stars rating system. For the long-term trade the higher ranked alerts are usually more rewarding. To find a good trade exit point, you can use an uptrend exhaustion alert or a trend resistance alert.