Raised in Auburndale, Florida by his mother and grandmother, Tracy had a passion for sports from the beginning. Baseball was his first love and pitching was his thing. With a mean fastball and a big bat to boot, Tracy was on his way towards a possible career in the majors. Then in 1993, along came this guy they called Penny. Being a Magic fan, young Tracy watched and idolized Penny Hardaway. His brand new style of play was exactly the inspiration Tracy needed to take his hoop game to the next level. From there, his storied career began.
Tracy's Junior Year at Auburndale High School, he decided to focus all his attention to his newfound love, basketball. This was when he started to blossom into the exciting athlete we all know as T-Mac. With averages of 23 PPG and 12 RPG, Tracy should have easily caught the eye of college recruiters but he was also good at skipping class, which eventually got him kicked off the team. Only Florida & Miami would even talk to him but in the end, neither wanted Tracy. Lucky for him though, his AAU coach, Mr. Alvis Smith, also worked for Adidas. He finagled Tracy an invite to the ABCD Summer Camp where this young, cocksure teen wanted to prove his talent by going up against Lamar Odom, the big dog in the spotlight who had everyone's attention. Well Tracy got his wish. He matched up against Lamar, and OWNED him. After that, (still a junior), Tracy took part in the Senior All-Star Game. In this game came a play that Tracy will always look back on as the moment he knew he had finally arrived. He took off down the court on a fast break, leapt high over the 6'9" James Felton, and delivered a spectacular windmill slam dunk that had every person in that bitch in complete awe. After his performances at the Summer Camp and the Senior Game, Tracy had gone from a virtual nobody that didn't even make the cut in the top 500 prospects list prior to that summer, to #2 on the very same list, behind only Lamar Odom. Impressed yet?
After witnessing Tracy's instant rise to the top, the same man who had gotten him into the ABCD Camp helped him find a new High School to play out his Senior Year. This school was Mount Zion Christian Academy located in Durham, NC. This was the point in his young life that Tracy developed his true leadership skills. Coach Joel Hopkins, who called himself the "Black Bobby Knight," took Tracy under his wing. His boy ended up leading the Mighty Warriors to a 20-1 record that year and averaged 27.5 PPG, 8.7 RPG, 7.7 APG, and 2.8 steals. Tracy shot 56.4% in field goals, 38.9% on threes, and 79.1% from the line. He played all 5 positions with ease. Tracy rounded out his Senior Year being named to the All-America Team, awarded the USA Today Player of the Year, and he was the subject of a 3-page article in Sports Illustrated.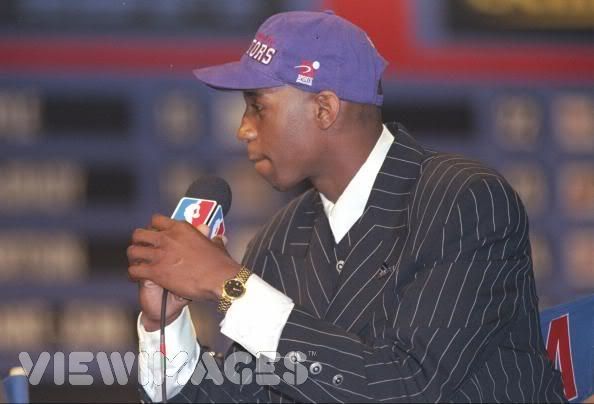 After his quick rise to the top, Tracy found himself pondering which would be the smartest move for himself as well as his family. Should he accept the best possible college scenario in the Kentucky Wildcats, or forgo college all together and enter the NBA Draft? Well, we all know about the wise decision young Tracy made. Before long, it was July 25th and glorious draft day had finally come. When it got to pick number 8, Tracy was getting anxious. And then it happened. With the 8th pick in the 1997 NBA Draft, the Golden State Warriors take………Adonal Foyle!!?? Wha??! In what would be one of the saddest "what if" moments in Warriors Franchise History (and trust me there are many), PJ Carlesimo and the Warriors had a shot at Tracy and instead took Foyle. This is one year after they drafted Todd Fuller over Kobe, Nash, Peja, & J. O'Neal. Moving right along as I am now breaking things in my home while reminiscing on those stellar moves, Toronto grabbed Tracy with the 9th pick.
His Rookie year in Toronto was nothing to write home about. Tracy struggled through some tough times that were bound to occur for a teenager in High School taking the big plunge straight into the mouth of the beast that is the NBA. But the near future was a different story for Tracy and the Raptors. It was the 1998-99 season that the Raptors finally melded as a team and put together a nice season. They drafted Vince Carter, who happens to be Tracy's second cousin. Additionally, they had brand new digs awaiting them in the Air Canada Centre. Tracy had worked out heavily during the lockout and bulked up his frame nicely. He was an integral piece of Toronto's puzzle that year, averaging 9.3 PPG & 5.7 RPG in 22 minutes. Tracy also had secured a 20.6 PER, and a TS% of 50.4. Many speculated it was the arrival of Carter and their great friendship that elevated Tracy's game and gave him the confidence he needed to make people take notice. They had become inseparable off the court.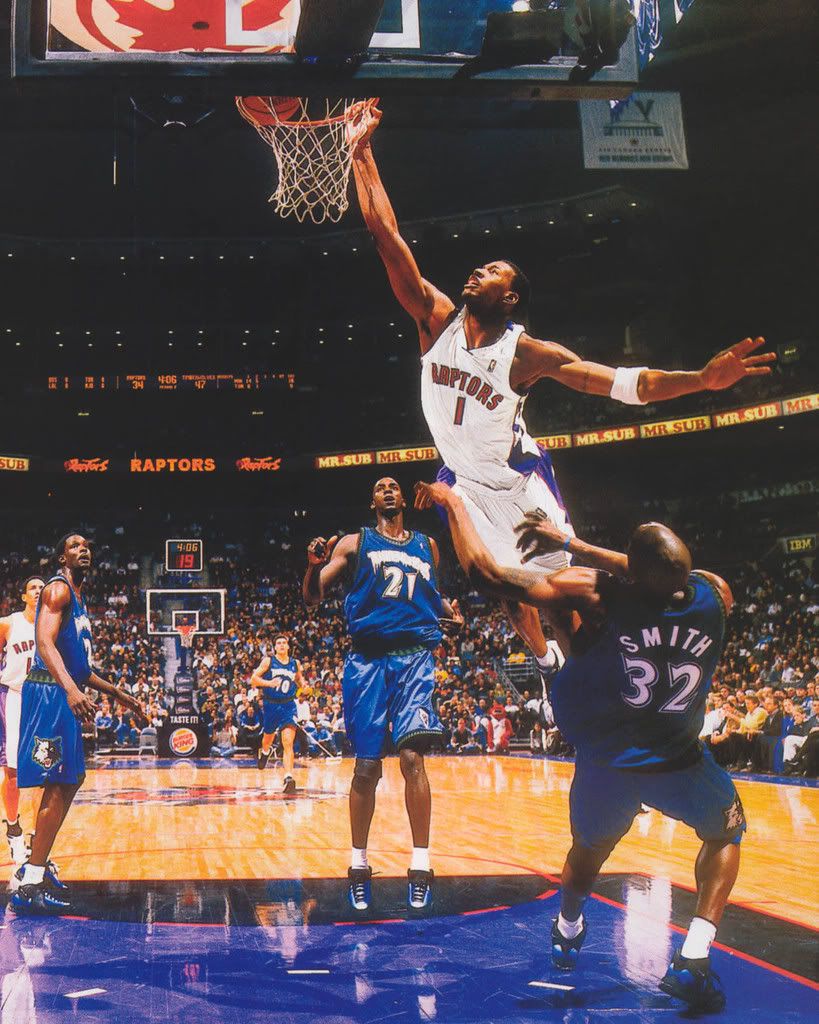 Tracy's 1999-00 season, he got off to a rough start in the organization's eyes. Mouthing off to the media about playing time and showcasing a lack of consistency, Tracy needed to adjust his attitude as well as his game. Until he did, he would maintain his sixth man role. With only a couple months until the post season, Tracy became a starter. They immediately began playing like a playoff-bound squad. Toronto won 11 of 13 games as soon as Tracy was in the inserted into the starting lineup. He ended that season having averaged 15.4 PPG, 6.3 RPG, 1.41 steals, and 1.91 blocks. He had a TS% of 50.95 and 20.0 PER and 21 WS (Win Shares). In the post-season, Toronto was swept by the Knicks, but Tracy played inspired basketball throughout the series. Additionally, it had marked the first ever NBA playoff games played in Canada.
The 2000 off-season began the lovely player-coach relationship between Coach Doc Rivers and Tracy. Rivers wooed Tracy back home to Orlando, promising Tracy many things, but most importantly, the rock. He slid on that #1 Jersey, previously rocked by none other than his hero Mr. Penny Hardaway, and went to work. After Grant Hill went down with season-ending surgery Tracy had to become The Man in Orlando. He really took to the task at hand. Rigorous workouts and weighted-down long distance runs, and practice sessions on Shaq's deluxe court nearby helped Tracy get stronger both mentally and physically. That year, he put up career numbers with 26.8 PPG, 7.5 RPG, 4.6 APG, 1.5 blocks and 1.5 steals in 40 minutes. He also flashed a TS% of 52.08, a PER of 24.9, had 32 WS, and was key in the Magic's trip to the playoffs. Tracy found himself on the All-Star Roster, second team All-NBA, and took the Most Improved Player Award, to boot!
In the 2001 NBA Playoffs, Tracy shined bright. The Magic were matched up against Milwaukee. Tracy had 33 points, 9 rebs, and 8 assists in Game One. Game Two he had 35 points in 42 minutes, 7 assists, and scored 20 straight in the first half. Game 3 he recorded 42 points & 10 assists, 8 rebs, 3 steals, and 2 blocks. Game 4 he led the Magic with 25 points & 8 assists, but all of this was not enough to secure a second win and the Magic were sent to gather their fishing gear.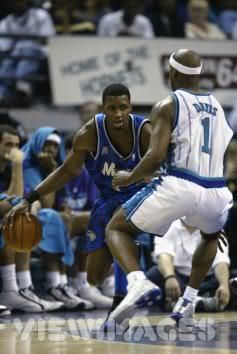 During the 2001-02 Season, once again without Hill, Tracy played well enough to once again be named to the All-Star Team, and first team All-NBA. He averaged the NBA's 4th best 25.6 PPG, 25.1 PER, 33 WS & a TS% of 53.21 (his career best TS% to date). Additionally, he was one of only two players in the NBA to put up at least 25 points, 5 rebs, and 5 assists that year. Behind their star, the Magic earned a trip to another post-season series, this time they took on the red hot Charlotte Hornets. Tracy had a great series, leading the Magic in scoring each game and playing his usual feisty D, but he couldn't do it alone, and alone he was. The rest of the Magic played just plain bad. Charlotte guard Baron Davis finished off the series with back-to-back triple doubles and sealed the coffin on the Magic's dreams of Round Two.
2002-03 proved itself as an amazing year for Tracy. Grabbing the NBA Scoring Title was a nice highlight, but he had some dazzlers on his way there. Tracy scored 52 points in a game against Chicago, 46 against Detroit & NJ, and 48 & 47 against Milwaukee. He also was third in the league at FGs and FTs made, and fifth in three-pointers. He ended the season averaging 32.1 PPG, 44 WS, a TS% of 56.4, and a kick-ass 30.29 PER. This season ended with yet another playoff run foiled in the first round, this time by Detroit. Nothing came together in this series, just like the others. In the series, Tracy averaged 31.7 PPG, putting up 43 points in 39 minutes in Game One and 46 points in 45 minutes in Game Two while all other starters combined for just 19! By Game Three, Drew Gooden started putting up double figures as well, but the two of them were out there alone. Detroit took the series in seven games. This was a seriously crushing defeat for the high-hopes Magic.
Tracy wanted to hone in on the skills he felt he was lacking during the off-season. He was intent on disciplining himself since he felt it was completely his fault the Magic were unable to advance to the Eastern Conference Semis the past season. Tracy realized he needed to do everything he was already doing, plus all the scrappy little things that don't show up on your stats sheet. Unfortunately, none of this mattered once the season got underway. With a virtually non-existent supporting cast, and injuries to Hill, Garrity and Giricek, the Magic were on a pathway to destruction. One bright spot in the disaster that was the 2003-04 Season, was a game against the Wizards. Tracy scored 62 points, becoming the 11th player in NBA history to do so. He finished the year with 28 PPG, 25.28 PER, TS% of 52.6, an AST% of 30.0, and another NBA scoring title. Tracy was also named a First Team All-Star again despite the Magic's horrid record of 21-61.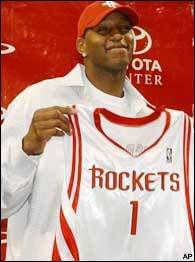 The 2004 Off-season was a significant turning point in Tracy's career. A large trade landed him in Houston with freak of nature, Yao Ming. At first, the gelling of the new teammates and coaching staff was slow and go. Before long, everything seemed to work itself out and the Rockets finished with a 51-31 record. One game stood out as a time when something completely magical happened. On December 9th in a game against the Spurs, The Rockets were down with less than minute left in the game, most of the Houston crowd had given up and left. At that point, Tracy decided it was time for him to take over. He scored 13 points in 35 seconds including the game winner with 1.7 seconds left. *I am adding the video of this unbelievable piece of NBA history in the comments below. Please watch it, thanks.* Rockets Organization was quite pleased with the way everything had come together. They were poised to make a solid playoff run. Tracy ended the year with 25.7 PPG, 6.2 RPG, 5.7 APG, and 1.7 steals with a 22.97 PER, and a TS% of 52.6. Once in the playoffs, the Rockets were hyped up and confident in their match-up against Dallas. Tracy and Yao delivered that one-two punch putting up solid numbers, and the Rockets won the first two games. But the defining game of the series was Game Three. The Mavs went on a crazy 20-0 run in the 4th Quarter, and ended up winning by four points. This win proved to bolster Dallas' confidence and they won 3 of the next 4 games to advance, leaving Tracy with yet another early exit from the ring hunt. He managed to put up 30.7 PPG, 7.4 RPG, 6.7 APG, 1.6 steals, and 1.4 blocks in the losing series.
By the time the 2005-06 Season came around, Tracy's body began telling him something. The tremendous work-load that he had been shouldering for the past 8 seasons in the NBA, were finally catching up to him. No surprise really, he was always trying to do everything. Playing approximately 40 minutes per game each season since 2000-01 he was bound to have some issues with wear & tear. Houston went 2-15 in games that Tracy sat out due to his injuries. They finished the season with a sad 34-48 record. Tracy only played 47 games but finished with 24.4 PPG, 6.5 RPG, 4.8n APG, a 35.0 Usg%, and 21.9 PER. He of course was devastated by the losing season and took all of the blame.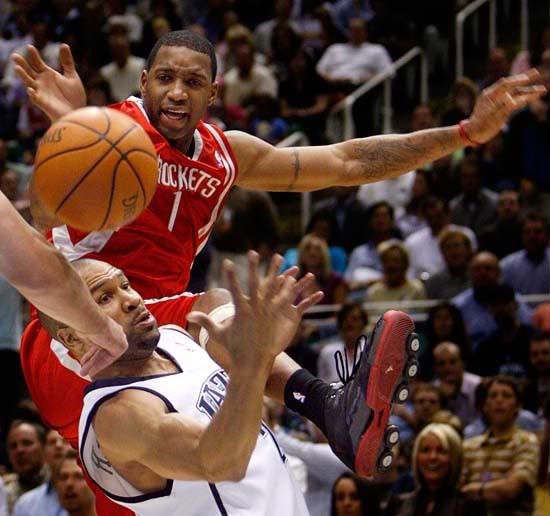 Last season the Rockets went 52-30. Tracy scored 24.6 PPG, 6.5 APG, on 35.8 minutes. He had 23 WS, 35.0 Usg%, 37.5 AST%, and 23.2 PER. With that, they headed to the post-season to face Carlos Boozer and the Utah Jazz. Games One and Two, Houston outplayed the Jazz with the exception of Boozer in Game Two scoring 41 points & 12 rebounds. Tracy dropped 31 & 10 in that game and from there, Houston headed up to Utah with two convincing wins in their pocket. Game Three the Jazz felt all the comforts of home as they killed the Rockets with great bench play and defense. Houston had a combined 0 from their bench and lost by 14. Game four was an atrocious loss, Game Five the Rockets squeaked out a W at home with Tracy scoring 26 points & 16 assists. Back in Utah spelled a loss with Tracy scoring 26 points & 10 assists. The series ended up with a deciding Game Seven in Houston. Tracy dropped 29 points, 13 assists, and 3 blocks but it wasn't nearly enough. Yao scored 29 as well, but failed to secure precious rebounds and the Jazz took the game and the series to advance to the Western Conference Semis against this extremely exciting team of thugs, scrubs and rejects from the Bay Area that nobody knew or cared about until May 3rd, 2007. For Tracy McGrady, it was yet another heartbreaking loss and wasted season. Still no closer to a ring, and feeling farther away than ever, he was openly distraught.
This season so far Tracy has only played in 29 of 43 games due to an injury to his left knee. So far in January they've only lost three games without him. Now he's back in the lineup and he's playing more and more minutes each game. Houston is looking to move up in their division as they are 7 games back at the moment, but riding a four game winning streak beating SA and winning in crazy Portland! Look for the streak to end this coming Tuesday when they meet a Golden State team who of course owns Houston this season.
Will this be Tracy's Championship year? It all depends on many factors. I won't speculate on the trade rumors because that is all they are at the moment. I just hope that whatever happens, Tracy can finally rock that big, sparkly ring that he has worked his ass off these past eleven years to get on his finger. The man deserves it more than anything. He's shown without a doubt that you can't whoop the fight in him.
***I am adding some more stats because this is after all, the basketball section of rootzoo***
Below are the official descriptions of John Hollinger's PER & TS% taken from ESPN Insider.
PER Player Efficiency Rating is my overall rating of a player's per-minute statistical production. The league average is 15.00 every season.
TS% True Shooting Percentage calculates what a player's shooting percentage would be if we accounted for free throws and 3-pointers. True Shooting Percentage = (Total points x 50) divided by [(FGA + (FTA x 0.44)].
The descriptions of AST%, WS, and Usg% below, were taken from basketball-reference.com
AST% Assist Percentage (available since the 1964-65 season in the NBA); the formula is 100 * AST / (((MP / (Tm MP / 5)) * Tm FG) – FG). Assist percentage is an estimate of the percentage of teammate field goals assisted while on the court.
WS (Win Shares) A Win Share is worth one-third of a team win. Win Shares are assigned to players based on their offense, defense, and playing time. If a team wins 60 games, there are 180 Win Shares to distribute among the players. This is always true; if a team wins n games, then there are 3n Win Shares to allocate to the players.
Usg% Usage Percentage (available since the 1977-78 season in the NBA); the formula is 100 * ((FGA + 0.44 * FTA + TOV) * (Tm MP / 5)) / (MP * (Tm FGA + 0.44 * Tm FTA + Tm TOV)). Usage percentage is an estimate of the percentage of team plays used while the player is on the court.
------------------------------------------------------------------------------------------------------------
Here is a list of the Top 25 Career PER Leaders I got from basketball-reference.com. Please note that Tracy is #16 with a 23.75 Career PER. He is #7 of all active players.
Rank Player PER

1 Michael Jordan 27.91
2 Shaquille O'Neal 27.40
3 David Robinson 26.18
4 Wilt Chamberlain 26.13
5 Bob Pettit 25.36
6 Tim Duncan 25.16
7 Lebron James 24.83
8 Neil Johnston 24.65
9 Charles Barkley 24.63
10 Kareem Abdul-Jabbar 24.58
11 Dwyane Wade 24.20
12 Magic Johnson 24.11
13 Kevin Garnett 23.92
14 Karl Malone 23.89
15 Dirk Nowitzki 23.83
16 Tracy McGrady 23.75
17 Hakeem Olajuwon 23.59
17 Julius Erving 23.57
19 Kobe Bryant 23.55
18 Larry Bird 23.50
20 Yao Ming 23.20
21 Oscar Robertson 23.18
22 Jerry West 22.90
23 Elton Brand 22.75
24 Elgin Baylor 22.75
25 Amare Stoudemire 22.28
Below is a list of the Top 10 Career Usage Percentages in the History of the NBA. I got the stats from basketball-reference.com. Note that Tracy has the sixth highest all-time Career Usage Percentage with 30.86. This proves that since stepping straight out of HS into the NBA, he is the true focal point of the offense for each team he's played for.
Rank Player Usage Percentage

1 Michael Jordan 33.26
2 Allen Iverson 33.06
3 Dwyane Wade 31.14
4 Kobe Bryant 31.14
5 Lebron James 30.93
6 Tracy McGrady 30.86
7 John Drew 30.80
8 Carmelo Anthony 30.72
9 Shaquille O'Neal 30.32
10 Dominique Wilkins 30.14


In conclusion, I want to thank Special K for bringing to my attention the importance of the advanced stats. Hopefully, my use of them throughout this article has shown without a doubt the true greatness of my boy, the one and only Tracy McGrady.