Get more bang for your buck with our guide to cheap and good food around the CBD area, brought to you by Streetdirectory #makanmonday! Here is a list of hawker stalls which offerings have proven to be nothing short of shiok!
1. Outram Park Yahua Rou Gu Cha Restaurant
PSA Tanjong Pagar Complex,
A warm bowl of Bak Kut Teh – pork ribs in a herbal peppery broth is the perfect remedy for a morning of shivering in the cold confines of the office or a rainy day. Outram Park Ya Hua is said to be the best of its kind in Singapore! Order a stick of You Tai to dip into the soup. Location: http://bit.ly/1lmHvQ2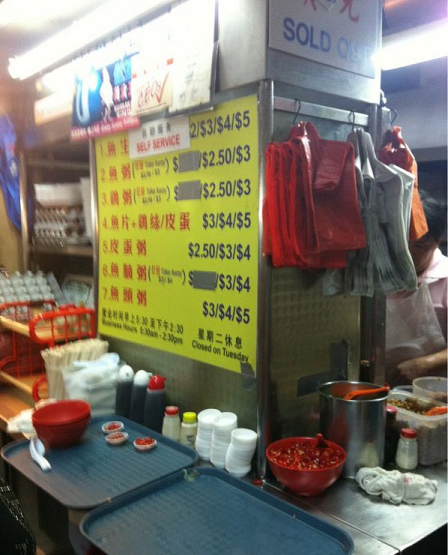 2. Zhen Zhen Porridge
at Maxwell Market
Smooth Hainanese congee with a serving of century egg, fish or chicken. Sesame oil, sesame seeds, chilli and spring onions are peppered over the fish and chicken slices to enhance its flavour. To try also is its "yu sheng" – raw fish sprinkled a generous serving of ginger, sesame seeds and lime.
Be prepared for a queue for this truly cheap and good meal. Come before 11.45am to avoid the lunchtime crowd. Location: http://bit.ly/1fRoIZj
3. Tian Tian Hainanese Chicken Rice
at Maxwell Market
This is a local favourite that needs no further introduction. Amongst the many stalls that serve it, Tian Tian Hainanese Chicken rice stands out as it beat Michelin-starred Gordon Ramsay in the highly publicized Hawker Heroes Challenge in 2013.
Conquer your Monday blues with a taste of the best chicken rice in Singapore; a plate of tender juicy chicken atop a serving of fluffy fragrant rice, complete with its signature homemade garlic chili sauce. Location: http://bit.ly/1no239P
4. 178 Lor Mee
at Tiong Bahru Market


Highly raved by food critics, 178 Lor Mee is one stall you should stop by for lunch at. It's known using crispy fried shark meat instead of fish meat, which goes delightfully well with its thick gravy. Your bowl of gooey goodness will be topped off with ngoh hiang and some hard boiled egg. This will cost you only $3. Location: http://bit.ly/1o8Ywzp
5. Tiong Bahru Pau
at Tiong Bahru Market
Grab a bag of delicious dimsum and paus for some mid-afternoon snacking back in the office. Tiong Bahru Pau has been around for more than 30 years, making fresh batches of steamed buns of various stuffings – char siew meat, chicken, red bean, lotus seed paste – and siew mai, prawn dumpling and egg tarts. Location: http://bit.ly/1fRuDO5
6. Chang Cheng Chinese Mixed Vegetables Rice
at Clifford Centre
Cai fan is an inexpensive and fuss-free way control your diet. Have the luxury of choice to pick from a delicious variety of meats and vegetables. With over 100 outlets in Singapore, many of us have probably feasted on Chang Cheng's appetizing spread on one occassion or another.
Make a little mental note of its outlet in Raffles Place, so you will know where to head to the next time you need to satisfy a craving for Chinese mixed vegetable rice. Location: http://bit.ly/1fRB0Rq
7. Han Kee (Fish Soup)
at Amoy Street Food Centre
Fish soup is one of the healthier options one can opt to have at a hawker center. Fulfill your goal of eating clean without sacrificing flavour with a bowl of Han Kee's fish soup.
With its thinly sliced fresh fish slices dipped in a broth that has been boiled for 5 hours and a healthy serving of lettuce, it's no wonder that it has one of the longest queues in Amoy Street Food Centre during the lunch hour. Location: http://bit.ly/1cmNeiQ