1) Before SBS/SMRT
Prior to the services bus companies of SBS Transits and SMRT Corporation, there used to be different buses along our roads. The biggest company in the 1960s was Singapore Traction Company, Associated Bus Services, United Bus Company, Amalgamated Bus Company which later formed the Singapore Bus services (SBS). The restwere known as Trans Island and City Shuttle Service.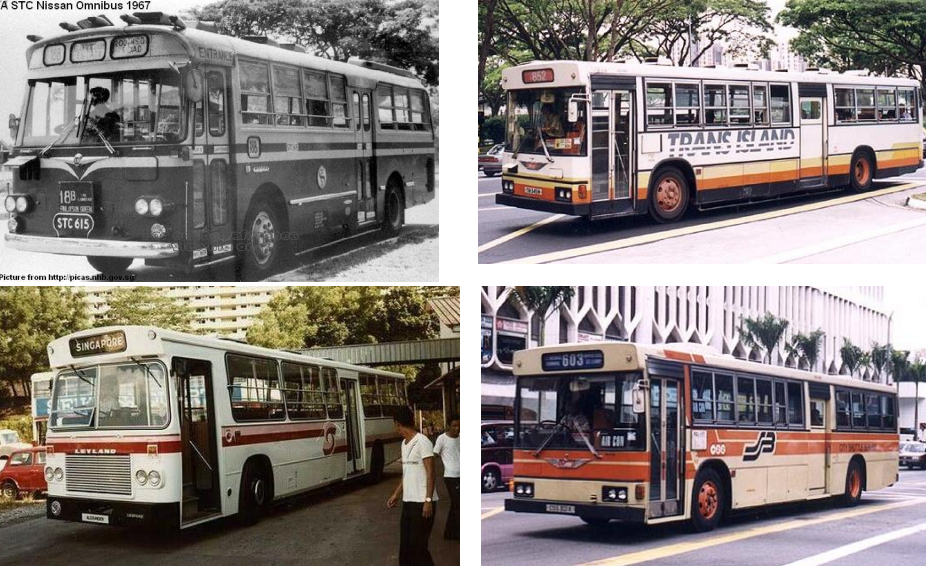 2) First SBS Air conditioned Bus Service: Bus 168
The first air-con bus service to be introduced in Singapore by SBS, was the refurbished Mercedes Benz OF 1413 buses from SABS for Service 168 at AMK Interchange to Orchard Road. The first ever air-conditioned buses in Singapore were the Isuzu BR351P buses purchased by STC in 1962, and two of them were air conditioned. They were registered as STC 1 and 2.
3) Where is Bus 1?
There is no currently Bus Service No.1 in Sinapore. Records showed that it was first introduced in 1956, and this service ran from Changi Village all the way to North Bridge Road (Capitol Theatre). It was renumbered 1 in 1971 Bus Reorganisation. This service was withdrawn on 5th November 1989.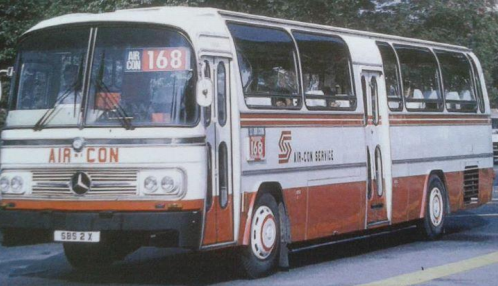 4) The Longest Bus Ride
The longest trunk Bus Service in Singapore is SMRT's Bus Service 61. The 38.8km journey starts from Bukit Batok Central and heads towards Clementi, Ulu Pandan, Queensway, Harbourfront, Chinatown, Clark Quay, Bugis, Lavender and all the way till Eunos Interchange. It is a good bus Service for first-time tourists - you can see almost half of Singapore!.
5) The Shortest Bus Service
The shortest Bus Service is a feeder service from SBS Bus 284. The 1.7km journey only had 3 bus stops excluding the Bus interchange in Clementi.
6) Yeap, they came in Mini too.
This cute mini bus (Mercedes Benz 811D) was deployed by SBS during the early 90s for loop services.
7) The Snake-like Buses We Loved
SBS Transit ever bought 2 Volvo B10MA-60 Articulated was the longest bus in Asia with its length of 19M. Due to the fact that it was difficult to manuvere and took up road space, SBS Transit had ceased the use of these These buses were sold to New Zealand in March 2006.
8) Nightrider for Party Owls
The Nightrider (SMRT) and Night Owl (SBS Transit) was introduced in 2000-2001 to cater for the late night commuters on weekends.
9) Exclusive Bus Services
Services 11, 84 & 115 are trunk services that have 1 bus deployed so if you miss one you probably have to wait more than 20mins for the next!
10) Take Note of the only Parks Svc Bus in S'pore
Bus Services 408 is the only Parks Service Bus available in Singapore and it serves from Habourfront to Henderson Waves and HortPark
11) Did you know?
TIB890E is the only public bus in Singapore that is fitted with seats that have headrests on all seats.
12) Air-conitioned Buses
All public buses from SBS Transit and SMRT are fully air-conditioned. The last batch of Non-Air-conditioned buses serving Tuas was phased out in 2013.
Bonus 13)
The Bus tickets of the past is differentiated by colors and the bus conductor will collect your fares and issue you a punched ticket!
Bonus 14)
Have you ever tried to fold a Heart shape origami with the Bus tickets? I'm sure you did!