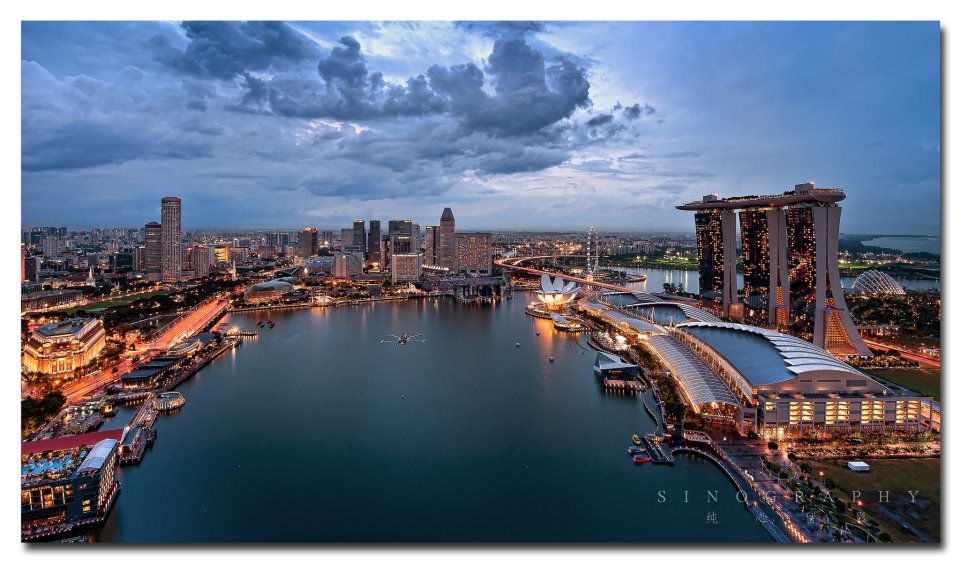 Image (C) Sino Ng
The Marina Bay district is a clean, green and picturesque area for recreation and relaxation. Comprising Marina South, Marina Centre and the bay itself, the district is now a quiet open park area with a seafood centre and a bowling alley. However, like the rest of Singapore , there are plans to inject life into the area by turning it into a hub. Construction is now underway to execute various government projects, the most hyped-up being Singapore 's first casino and Integrated Resort (IR). This process of revitalization will be completed by 2008.
History
Built on reclaimed land, this district is young and has not had time to accumulate historical snippets. Despite this, there have been some landmark (or watermark) events that have taken place in Marina Bay. Just this year, Singapore 's National Day, or independence day, was celebrated in Marina Bay for the first time, a shift from the usual Kallang Stadium or Padang. The festival was particularly unique and exciting because it was held on a floating platform instead of on land, a feat that will undoubtedly be part of Singapore 's historical records.
Image (C) AZphotography Zainie
What To Do
Marina City Park
An artistically-designed area, Marina City Park is beautifully landscaped with a two-tier large pond with a fountain that jets water up to 18 metres in height. Perhaps the only significant historical representations are found here, with sculptures of eight legendary Chinese heroes including Confucius. There are also other sculptures here, which capture Singapore 's hopes, dreams and aspirations, e.g., The Spirit of Youth and The Soaring Vision.
Bowling
The Marina Bay district is a popular place for bowling, with a branch of the large Superbowl Holdings located here. After a tiring day of exercise, try some of the seafood or steamboat at one of the many restaurants nearby. Alternatively, go fly a kite, literally, in the windy open fields surrounding the bowling centres and restaurants.
Image (C) Vanessa Chea
Attractions in Marina
Marina Bay 's future looks busy, booming and bustling. It is, in the incumbent Prime Minister's words, "the centerpiece of the redevelopment of our city" and aims to be the hub for the 3 Es – Explore, Exchange, Entertain. Singapore 's first casino, Marina Bay Sands contracted to Las Vegas Sands, is doing very well. The Integrated comprise of theatres, exhibition centres, museums and luxury retail outlets. The Singapore Flyer, an imitation of the London Eye, is 165 metres in height. Visitors have an unobstructed aerial view of Singapore, JB and even Batam, that spans about 90 metres in diameter. There will also be many luxury residences in the vicinity, the most acclaimed being The Sail at Marina Bay, a 245-metre condominium. Built to represent a sail, this residential development offers "six-star" living. With the bustle that looks to be dawning on Marina Bay, Singapore will need more water. To facilitate this need, the Marina Barrage was constructed (completed in 2007). The project involves damming the Marina Channel to create a new reservoir that will provide drinking water and a space for water-based activities. The latest attraction is Gardens by the bay
Other Informations in Marina Bay Singapore